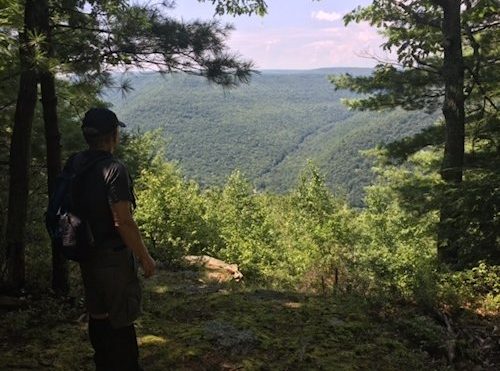 About a mile above Waterville on route 44, just before the bridge over Pine Creek, a spacious parking lot extends north from the road, ostensibly to serve those hiking or biking this delightful, more remote section of Rails to Trail. We arrived for an alternate reason, to ascend Huntley Mt via a northern segment of the Tiadaghton Trail— for us, a virgin path.
Barely a few steps along the Rails to Trail a sign alerts hikers to the Old Wagon Road, and the Tiadaghton Trail, which run together for a short distance, gently gaining altitude away from the R TO T. Not far up this combination of trails, the Tiadaghton separates from the Wagon road via a hairpin back to the right. Engaged in conversation and enjoying the very civilized ascent, we missed the turn, until a short distance later we realized we were only seeing red trail markers not the Yellow needed for the Tiadaghton. We returned to the hair pin fork and began a rigorous ascent that would have put a smile on Forester Bob Weber's face, switch backs not- withstanding.
This trail has an aversion to meandering, continuing a serious climb through relatively open forest. Somewhere near the half way point of the ascent, the trail reaches an open section of the ridge offering dramatic views of the Pine Creek Valley, a very good place, we thought, to hydrate and take advantage of the overlook.
The trail continues to gain altitude but not long after the overlook it hooks into an old road that gives up switch backs and continues to climb in a less aggressive diagonal route to the upper plateau. From here there are multiple options including trails that head southeast descending into Little Pine Creek Valley. After skirting more than a mile of the plateau, we chose the Gleason Trail which heads back down toward Pine Creek following a mostly waterless run and descending rapidly, at a rate that would easily match the ascent. Approaching the bottom, with Pine Creek in sight, Gleason intersects the Old Wagon Road. We chose this route to traverse the remaining mile and a half to the parking lot, occasionally offering greetings to the bikers on the Rails to Trail below us.